This guide will help you quickly configure a MikroTik router for the most common home and small office use. Using one of the scripts provided here, you will be able to create a local area network with enabled Internet access via standard network equipment given by an Internet service provider.
The primary goal of this article is to help put the router in use within a few minutes.
Implementation of security and protection measures on a MikroTik router or a network, in general, is not being covered by this guide. This topic will be a subject of future articles.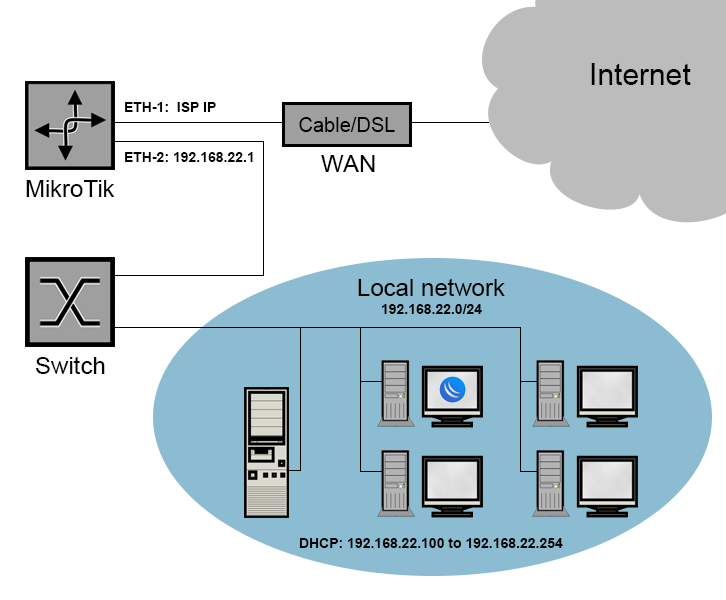 The diagram shows a scenario in which MikroTik provides a local network through a switch for the (192.168.22.0/24) subnet. Network address translation (IP masquerading) is going to be a method for connecting the subnet to the Internet. This guide, along with the supplied scripts, is created upon an assumption that the IP address and the default getaway parameters, for the Internet connection, are provided by your ISP's DHCP server. Given scripts will configure MikroTik to automatically supply all of the necessary IP configuration parameters for the LAN clients to be able to utilise the network and the Internet.
Planning
Caution: This guide may lead to data loss, if not followed correctly.
Among a few of the possible means that one can use to access and configure a MikroTik, this guide will describe the procedure using WinBox, a MikroTik's GUI application for this purpose. To follow these instructions, you will need a PC running Windows operating system. You will, also, have to write down or remember a number of the ethernet port where you have connected your LAN switch and a number of the ethernet port where you have plugged in ISP's modem or router. You can use any port starting from "ETH-1" to connect the abovementioned devices to a MikroTik router.
Before you begin, visit: https://mikrotik.com/download and get the latest version of WinBox.
For the best results, one should run the script on a clean router configuration.
To save your current configuration (if needed), make a backup before you reset the router. Instructions on how to quickly create a backup are available here: MikroTik: Quick backup and restore.
Connecting to MikroTik and setting up the network
Power on your router and, using an ethernet cable, connect your PC to one of the unused "ETH" ports on the router. Once you see LED light on a connected port confirming your cable is connected, run WinBox application on the PC. By default, username for MikroTik routers is "admin" and password field remains blank.
Follow the instructions in the video below to find out how to connect to MikroTik router, reset any previous configuration and run the script that will create your new network in seconds.